Welcome
to

Day 9: Nine Ladies Dancing

of

The Twelve
Days of Christmas.

In Truth, the 12 Days really started on
December 25 and ended on Epiphany, January 6th. Over the
centuries people have forgotten and now celebrate it
throughout

December. But if we were celebrating the 12
Days as originally celebrated, TODAY January 2nd would
be the Nineth Day of Christmas
Presenting our interpretation of

Nine Ladies Dancing....
When I think of Dancing during the Christmas Season I think of the 'The Nutcracker Ballet.' And so we have these darling champagne flutes decked out in 'tutus' and ready for the ballet.

Ceramic ballet slippers are of course the star and announce the pink lady slipper sodas to the audience. There is a name of an alcoholic beverage entitled 'Lady Slippers' but I wanted these to be for adults and children so made old fashioned Strawberry Ice Cream Sodas.

Note: The ceramic ballet slippers were purchased at a thrift store. I added the flowers.
<><><><>

<>

<>>
And here is the whole ballet troupe. All ready for the performance!!
How to make the

'Pink Lady Slipper Sodas'
(A Tutorial)

Start with a champagne flute and put four or five small tape 'loops' that you make toward the bottom third of the flute.



Cut about 7 1/4 inch lenths of gathered pink ribbon for each flute.
Note: I purchased this ribbon on a roll from Walmart.








Press a ribbon piece onto flute covering the tape loops. Press firmly for the ribbon to stay down.








Pour about a tablespoon of strawberry syrup and a heaping tablespoon of sweetened sliced strawberries (from a carton of frozen sliced strawberries that have been defrosted) into the flute.
Next mix about 1 Tablespoon strawberry syrup and 1 Tablespoon cream together. (Use this amount per flute)
Photo 1- Mix about 1/2 to 2/3 cup sprite with the strawberry cream mixture.
Photo 2- Pour it into the flute.
Photos 3 & 4- Add a very small scoop of vanilla ice cream.
Photo 5- Tie a piece of thin pink ribbon (12 inches in length)around a clear
straw toward the top.
Photo 6- Squirt Redi Whip topping on top of ice cream and top with a small
piece of strawberry and insert the straw.
Put them on your stage to 'serve'
Note:The champagne flutes are from the Dollar Store
ENJOY the Ballet!!!
Thankyou
for joining me today. I do hope you will make these
delicious and fun Pink Lady Slipper Sodas. Your family and
guests will love them.
Nann
I was Featured !!!!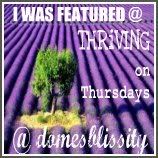 I am participating in:
Happy Friday
http://cafescrapper-scrapsoflife.blogspot.com/2012/01/happy-friday-link-up-drink.html
Inspiration Friday
http://www.atthepicketfence.com/
Feathered Nest Friday
http://frenchcountrycottage.blogspot.com/
Show and Tell Friday
http://romantichome.blogspot.com/
2805 Potpourri Friday
http://twenty-eight-0-five.blogspot.com/
Foodie Friday
http://designsbygollum.blogspot.com/
Rock and Share Party
http://theshadyporch.blogspot.com/
Open House Party
http://nominimalisthere.blogspot.com/
Kristens Creations
http://kristenscreationsonline.blogspot.com/
Tablescape Thursday
http://betweennapsontheporch.blogspot.com/
Overflowing with Creativity
http://www.itsoverflowing.com/
Thriving on Thursdays
http://domesblissity.blogspot.com/
Wow Us Wednesdays
http://savvysouthernstyle.blogspot.com/2012/01/wow-us-wednesdays-47.html
Tabletop Tuesday
http://astrollthrulife.blogspot.com/2012/01/97th-table-top-tuesday.html